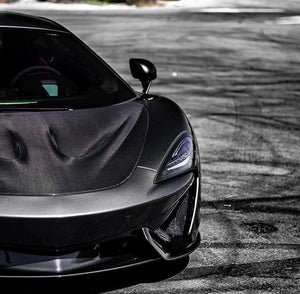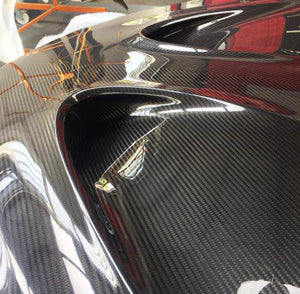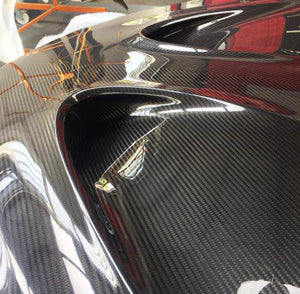 MCLAREN 570S 1016 INDUSTRIES - CARBON HOOD / BONNET
MCLAREN 570S AERO KIT
Brand: 1016 Industries.
For The Years, 2017-Present.
All Our Stock Is Brand New.
Free U.K. Mainland Shipping. 7-30 Working Days.
Free International Shipping.  7-35 Working Days.

''With the introduction of the Sport Series, McLaren entered into an important group of competition and into an arena that is both competitive and demanding. Drawing on language from previous models, the sport series offered a softer level of traditional race heritage. Carefully thought out technology is subtly hidden into the presence of the vehicle architecture. With the start of the ignition, the immediate purpose becomes clear: Be fast, be efficient and be relentless.
With every model, certain features are compromised in the pursuit of commercial success, a separation between the enthusiast and the masses. The challenge then becomes to create the edge that every enthusiastic is looking for, to find those aspects that widen the eyes and raise the heartbeat.
From the onset of the investigation, it became very clear that certain aspects needed to be addressed: Design, sound, and speed. The sport series is by far the most curvaceous model to be introduced, lacking angular attitude and aggression. Without a sport exhaust, the car hardly speaks to the driver and tone is muted by mechanical noise. While the power is nothing short of spectacular, it still lacks the force and agility to raise the hair on the back of the neck and bring sweat to the brow.
To accomplish this, a careful study of the car, the owner feedback and the heritage of racing models brought the both ideas, deficiencies, and strengths of this new platform.
The short wheelbase and immediate torque yielded understated downforce and a challenge to plant the car to the ground at its limits. To combat this both the front and rear axles needed to be pushed harder and more efficiently to the pavement. The rear wing structure of the sport series is both aggressive and functioning, not a superfluous effort in design for the sake of design. 8 levels of height adjustment and 5 fixed angles mean that your environment can never outmatch your design. Whether limited to downforce or drag, the sport series rear spoiler provides the peace of mind that every situation is controlled. The front spoilers and aero blades are extended and exaggerated, providing more frontal load to the axle and encouraging the nose to dive into each corner and plant the radius earlier and with more force.''