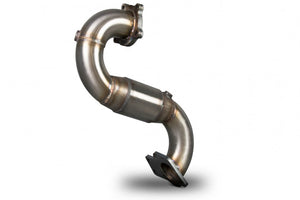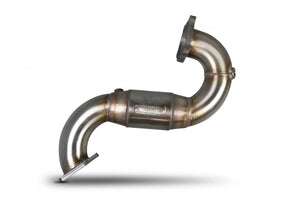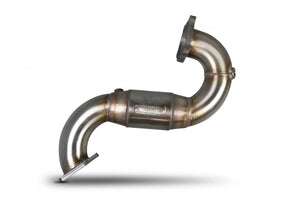 Vauxhall Astra VXR J Scorpion Sports Catalyst
Vauxhall Astra VXR J
Scorpion 3'' High Flow Sports Catalyst
Brand: Scorpion Exhausts. 
Part no: SVXX062
Pipe Diameter: 76mm / 3''
For The Years, 2012 - 2015 
All Our Stock Is Brand New.
Free U.K. Mainland Shipping. 2-5 Working Days.
International Shipping +£85.  3-10 Working Days.
.
''Hand crafted in England by the same technicians that create track ready systems for the highest profile race teams in the country (including the British Touring Car Championship teams!), each Scorpion Exhaust component is packed full of race proven technology!
The enhanced performance provided by a Scorpion Exhaust system or component varies from vehicle to vehicle. In general terms you can expect power gains of between 8% and 10%, but please contact us for details if you require detailed information.
Scorpion engineers' mission is to find the perfect balance between maximum performance increase whilst maintaining a responsible noise level. Scorpion systems are designed to appeal to enthusiasts of all levels and the main way of controlling this is by offering resonated and non-resonated versions of most applications.
A resonator is a chamber in the exhaust system that contains a specific volume of air which is designed to cancel out certain frequencies of sound (made by the engine) - making the exhaust noise quieter. A non-resonated exhaust system will therefore give you extra performance and a louder exhaust note, and a resonated system will give you extra performance without increasing the exhaust noise much.
Scorpion products are direct replacements for the original systems and come with everything needed to fit them. 
Scorpion Exhausts are made to the highest standards, and are guaranteed against manufacturing defects for the period of ownership of the product whilst installed on your vehicle.''